Fighting history
Can Tasmania sustain its population growth after the pandemic?
This webinar was presented on August 29, 2023.
Or, scroll down for the full list of resources mentioned in the session.
Four big stories for Tasmania
Tasmania is planning for growth with a fresh population strategy, initiatives to tackle housing affordability, activate the Hobart CBD, and balance an ageing population. But the state is once again losing young people to mainland cities while it continues attracting retirees: Australia's oldest state is getting older.
We invite you to join us as we present our new forecasts for Tasmania and explore how demographics and land use policies will impact the demand for infrastructure and services in the State over the next 25 years.
Recent growth a spike, not a trend
The unprecedented growth rates Tasmania experienced between 2017 and 2020 have led to the current tensions in housing affordability and infrastructure planning. However, this growth rate has slowed during the pandemic, and recent migration data shows young people returning to mainland capital cities once again.
As a result, our forecasts show Tasmania returning to historically normal levels of growth over the longer term, after a short-term spike in growth arising from the current high levels of overseas migration - a correction after net losses during the pandemic.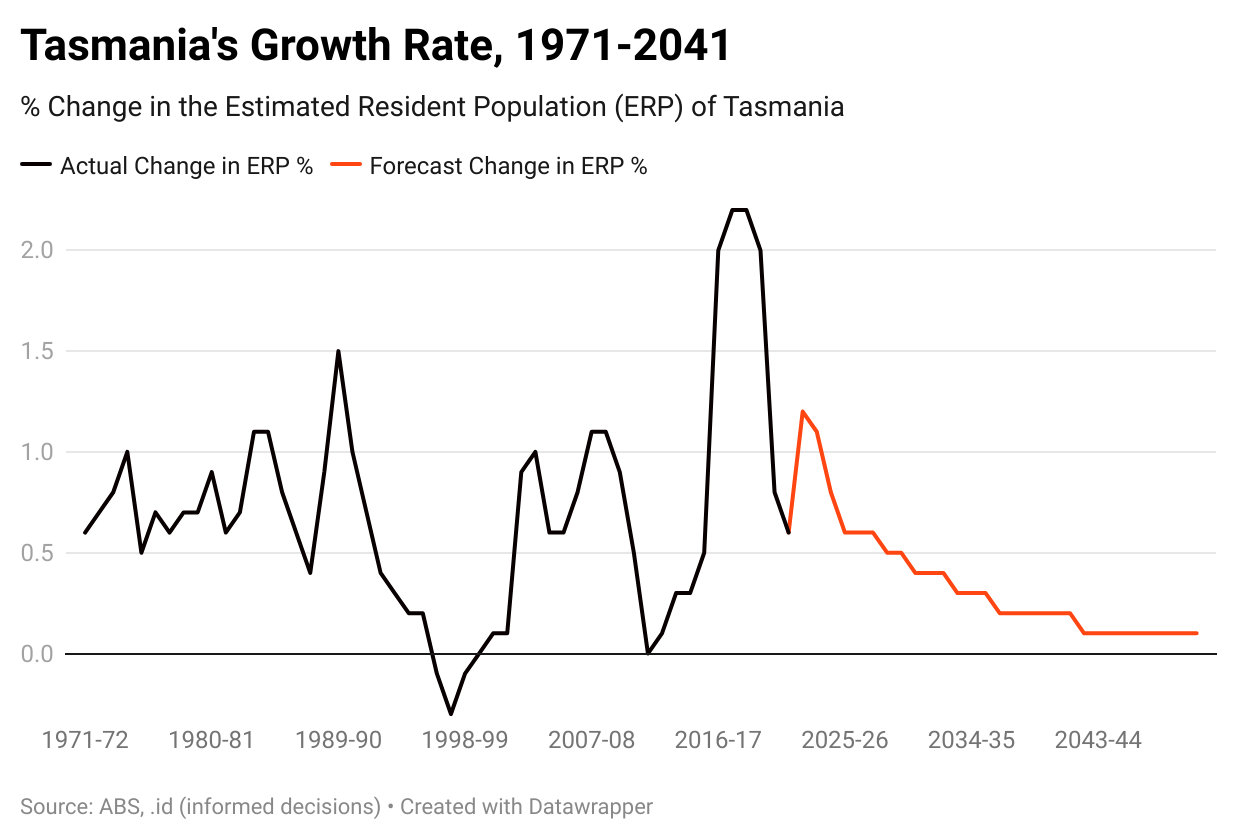 Deaths to exceed births within a decade
Natural increase (the net of births and deaths) is a component of population growth in all parts of Australia. However our forecasts show Tasmania will experience natural decrease within 10 years.
Tasmania is the oldest state in Australia, and its increasing popularity as a retirement destination means it is only getting older.
This ageing population means there are fewer women in the most fertile age groups. This factor, combined with declining fertility rates (women having fewer children), means deaths are forecast to outweigh births in Tasmania within ten years, making migration (either from inter-state or overseas) essential to balance the ageing population.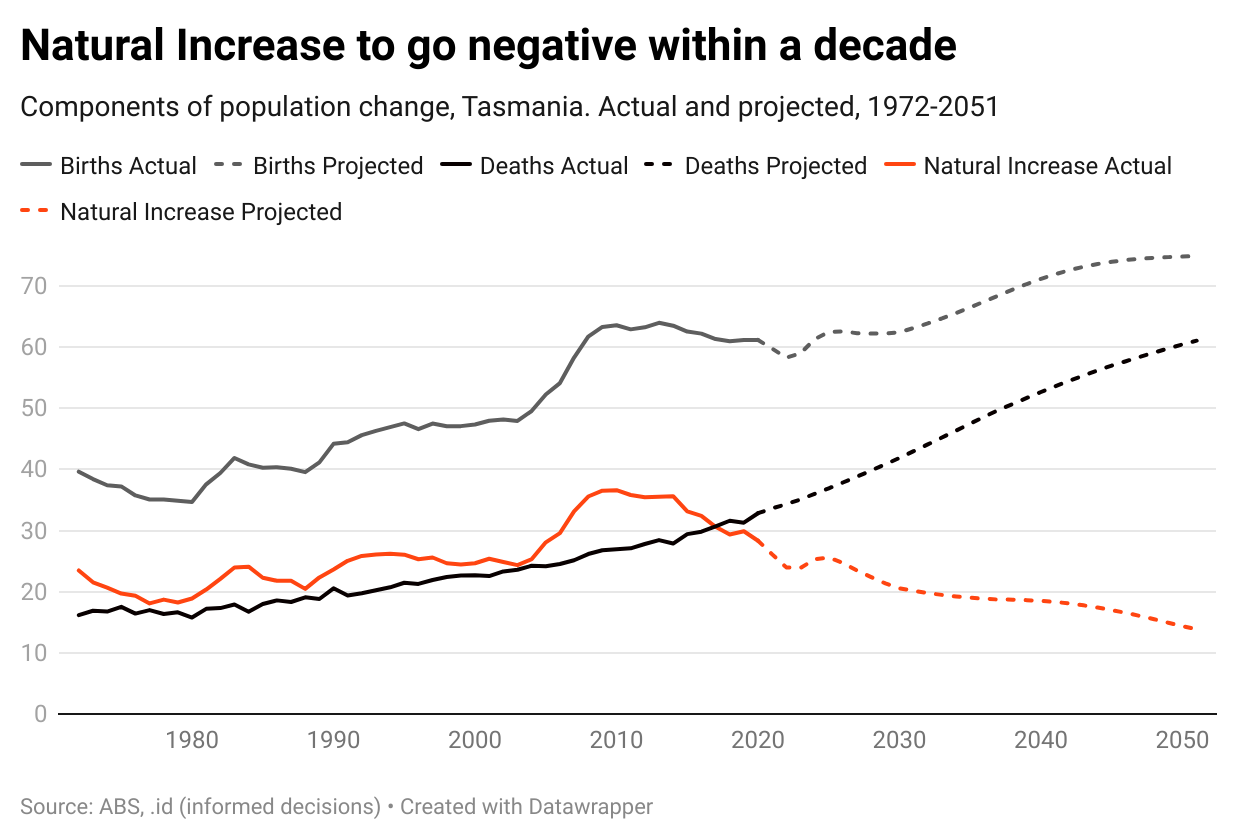 A continued decline in the school-aged population
The school-aged population (5-17 year-olds) of Tasmania has been steadily declining since the 1970s. And although we forecast a temporary increase over the next few years (linked to the recent recovery in overseas migration), the continuous departure of young adults to the mainland means there won't be as many young families forming in Tasmania, resulting in a further decline in the school-aged population in that state.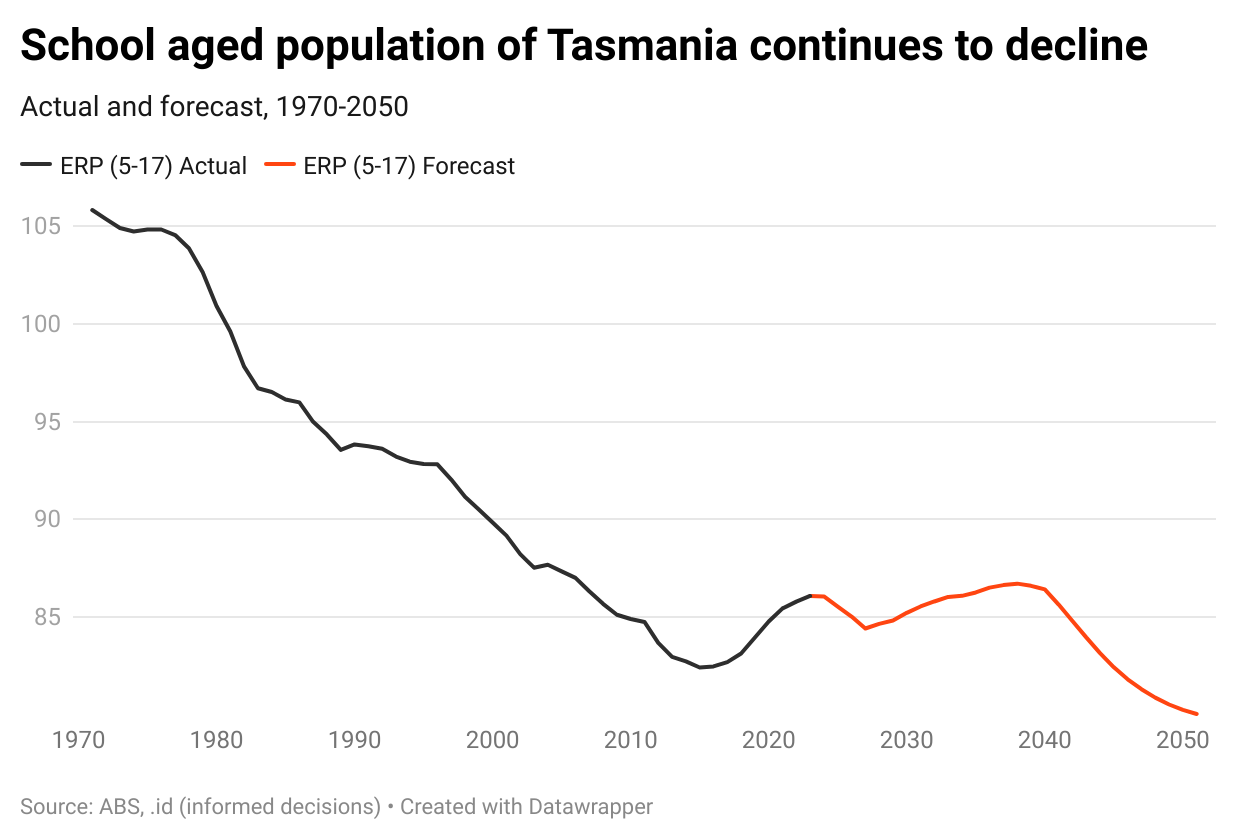 Not as many future housing connections
After a period of strong population growth, Tasmania is playing catchup with housing supply and infrastructure planners are preparing for a new growth paradigm. However, our forecasts show this level of growth and population pressure will not be sustained in the longer term.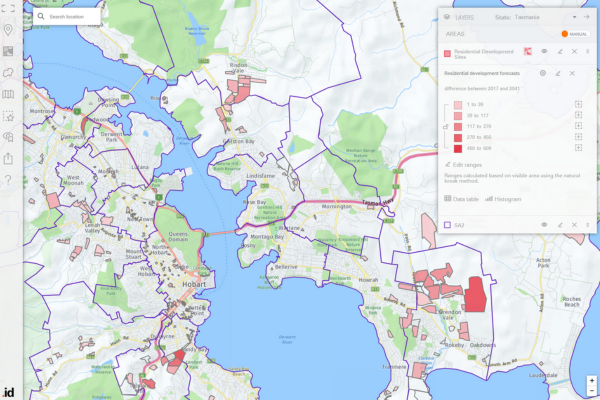 Join us to hear the story for each region
These are some of the big-picture trends impacting Tasmania, but of course, they will not be felt equally in all regions of the state.
Join us to hear our a regional and localised analysis of the hotspots that will experience the most signficant changes in population and land use over the next 25 years.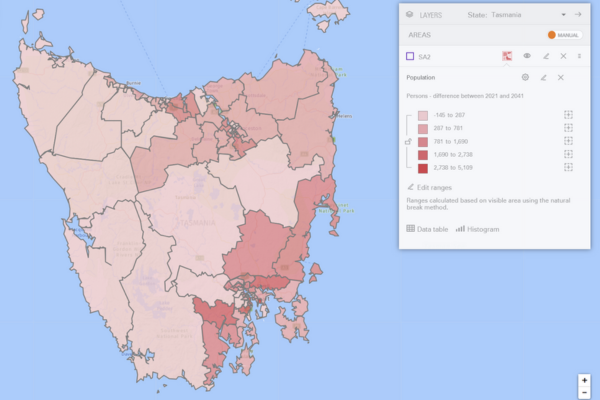 Resources from the presentation
Be notified of our latest forecasts
Register here to be notified whenever we update our forecasts for an area of interest to you, and stay tuned for our next webinar when we will be presenting our forecasts for Western Australia.
National-level analysis
Tasmania's population is heavily influenced by national-level factors including overseas migration, the declining birth rate and mortality and increasing life expectancy. Read more about these important demographic assumptions that underpin our local-area work, and see how our forecasts for the nation compare to those from the Centre for Population.
Publicly accessible information tools
Within the presentation, we referred to a number of our other publicly-accessible information tools that that can enrich your understanding of local areas in Tasmania;
Find this webinar recording and many other resources from our local area experts at any time in our Demographic Resource Centre.
How to use our forecasts in your work
Read more about our micro-geographic forecasts and ask us for more information about the following access options;
Hotspot demand report
Identify areas that will give your business a head start by identifying the locations where we forecast there will be population growth.
Self-serve catchment reports
Learn more here about our self-serve platform, or simply reply to this email if you would like to open a self-serve account with us.
Subscribe
If you're planning a network across regions or have a larger operational footprint, book a time to speak with us to discuss the different subscription options available.
Did you enjoy the presentation?
If you enjoyed the session, please share these resources with your own network so we can help more people make informed planning decisions that benefit our future communities.